RELOAD, TDANA, February 2021
Two-year TDANA ( Transload Distribution Association) associate member ARS Recycling Systems touts an industrywide reputation for maintaining a customer-centric approach to every endeavor and providing unique solutions to meet clients' diverse needs. The company excels in engineering custom machines that increase productivity and create a better environmental experience for less money.
"We compose a compelling argument that offers efficient, engineered solutions at a competitive price for customers," President Bob Vucenovic said. "We don't have a cookie-cutter service; we provide different applications in different ways."
Vice President of Engineering Gus Lyras founded the company in 1991 as a dust collection manufacturer. Services include custom equipment maintenance products, training and repairs, and will soon feature equipment finance consulting. Clientele representation includes bridge and marine industries, as well as the U.S. Navy and various industrial applications.
Business evolved significantly in 2017 when ARS recognized a unique need in the transloading industry, coinciding with the Environmental Protection Agency's efforts. That year presented a significant service event with a leading dry bulk marketer, which resulted in a successful case study upholding the company's stellar performance.
"I suggest reading the case study when considering our services," Vice President of Sales Doug Reed said. "It offers compelling evidence that our machines boost productivity and eliminate potential environmental concerns for our clients."
Although ARS has solved companies' fly ash problems in the past, it faced a unique challenge in providing assistance to partnership between Waste Management FlyAsh Direct and Watco Cos. These new customers required a different approach to eliminate an operational bottleneck that occurred while transporting fly ash via pneumatic trailers and rail cars from coal-fired power plants.
"They had unique waste management needs and preferences, so we engineered their equipment based on their procedures for transporting to rail," Reed said. "Their operations were slow and couldn't move more than one product at a time, and they experienced exhaust pluming and filter problems. We adjusted our basic dust collection technology to fit their needs."
ARS representatives toured the worksite to assess the customers᾿ concerns and processes firsthand. Reed cited these tours, which precede equipment maintenance and training, as one of many unparalleled services to attentively engineer the right product.
Lyras agreed and said, "The most important step is meeting with the folks who will use these machines daily. Our tours prioritize their ideas so we can design the equipment around their needs to enhance their safety and efficiency. This is my primary objective when engineering something from square one."
In this scenario, ARS integrated the ARS-DC5TL to minimize product lost into the air during transport. The continuous dust collection system for dry bulk solids significantly enhanced productivity through reducing fly ash lost per hour, therefore presenting a more environmentally conscious process for Waste Management FlyAsh Direct. It also reduced maintenance downtime by addressing issues such as improper airflow and filtration.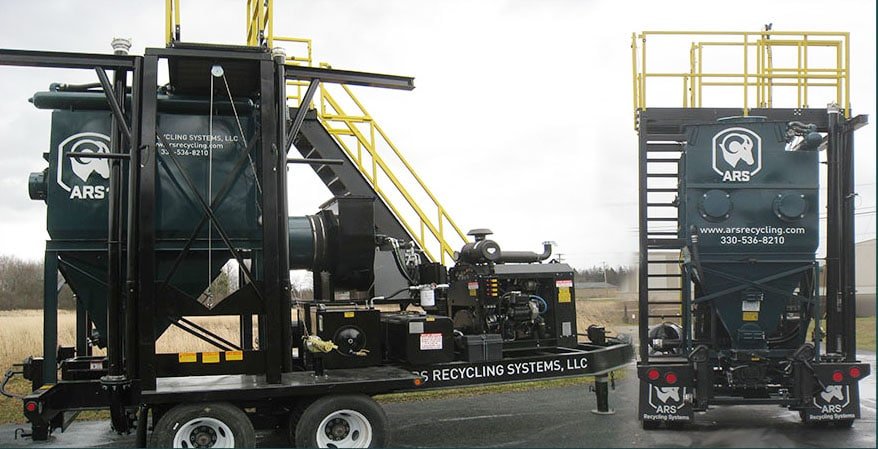 Vucenovic hails these functions as key components of their marvelous machines.
"With our assistance, they᾿ve minimized waste; reducing product loss is one of our machines' most unique abilities," he said.
The case study presents measurable proof for ARS Recycling Systems᾿ effectiveness. Implementing the DC5TL increased the cubic feet per minute from 2,000 to 5,000. The company also resolved the filtration issues through increasing the media space from 325 square feet to 1,620 square feet. Additionally, the new machine can operate 2,000 hours without filter maintenance and increase site productivity by 400%.
Reed cited associate membership with TDANA as a significant chapter in the company's history. "It᾿s a great fit for us," he said. "Gaining exposure to those in the transloading industry through the directory has proven especially invaluable."
Vucenovic said TDANA appeared in numerous searches, prompting their desire for exposure and decision to join at the end of 2018. ARS seeks to offer solutions as the industry continues to evolve, especially through meeting others involved and participating in trade shows.
While ARS hopes to maintain a presence in the bridge and marine industries, the company also aims to augment its products for developing markets such as blast recycling. Conveying the affordable, unparalleled value proposition of services on various platforms will be crucial for both.
"We expect a huge influx in infrastructure spending, which includes bridges and everything fundamental to our markets," Vucenovic said. "We're cautiously optimistic and aim to ensure we have the type of equipment available to respond to the demand."
https://na08.mypinpointe.com/d/ATcEjlINA4CcUxCvLDh0CyFBfJ7dL36nPDsQvxsGfnPyqDS5MiO2yVmfT9MmKXcjrCaFtYNZxLaMWCOsBaNIyJjzHemmk2e3zkP_woVEmkw