You
We bring over 25 years of experience partnering with middle market companies and management teams to support growth and further strategic initiatives.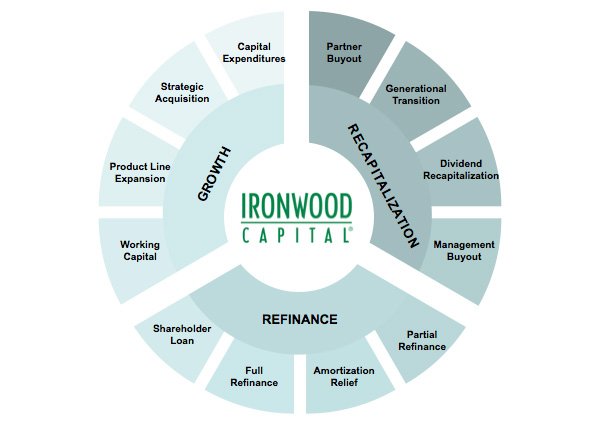 You, like us, run a business. Whether you are a business owner, investment banker, or private equity investor, you need capital that fits your business needs and partners that will act with integrity. You may wish to grow, sell, acquire competitors or complementary products, or simply access funding to hire more people or upgrade equipment and facilities. You need simple, efficient capital solutions.
In most middle market companies, primary energy is directed toward developing, marketing and selling products and services. Less energy is directed toward strategic financial planning and execution since such matters have little immediate impact on a company even though they can have profound long-term impact. While management teams are generally aware of some of the capital tools available, rarely are they aware of the full range of options and the impact they can have. Ironwood Capital can assist a company in identifying and assessing the options available to it in a management-centric approach and undertaking a transaction that provides minimal disruption to day-to-day business operations.
Middle market companies can find a wide array of financing options to assist them in addressing the various opportunities and challenges they routinely face. These options generally fall into four general categories: growth, recapitalization, refinance and sale. The graphic above presents three of those categories and many of the variations on those themes. Ironwood Capital has experience in executing each of these variants and can provide the capital and advice to simplify a complex process and maximize shareholder value and control.