Capital for Connecticut Companies
Accelerating companies' growth curves through investments and value-added support to companies in Connecticut.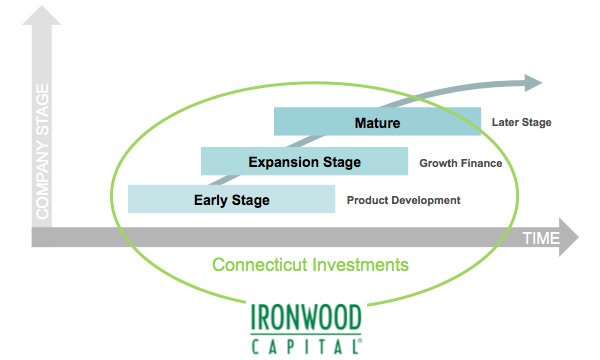 Ironwood Capital Connecticut invests in high-potential companies in Connecticut with significant growth opportunities across a range of company development stages. Our primary focus is to provide expansion capital to talented management teams with strong business models and execution expertise, although early stage investment capital has been made available to compelling opportunities with strong co-investment leadership and exceptional management teams.
Early Stage Capital is suited for companies with a strong, unique product or service that has demonstrated market acceptance and revenue traction, but which need capital to broaden market penetration and commercial production, or reach break-even. Investment is primarily structured as preferred equity or convertible debt.
Expansion Capital is offered to companies with complete management teams and established business models or products that are looking to substantially scale operations to the point of sustainable profitability. Investment is primarily structured as debt with equity warrants or preferred stock with an accruing dividend.
Mature companies have well established products and services and a history of generating profits and cash flow. Investments may be structured in the form of senior and stretch-senior debt, mezzanine debt and or preferred equity to provide access to capital beyond that available from conventional lenders.
Ironwood Capital Connecticut adds significant value to its investments, offering advice, guidance, networking and strategic support to portfolio management teams. Ironwood considers itself a financial partner in all of its investments and is open to contributing multiple rounds of financing as companies grow in order to support further growth initiatives.