Subordinated Debt
Patient, flexible investment for growing your business.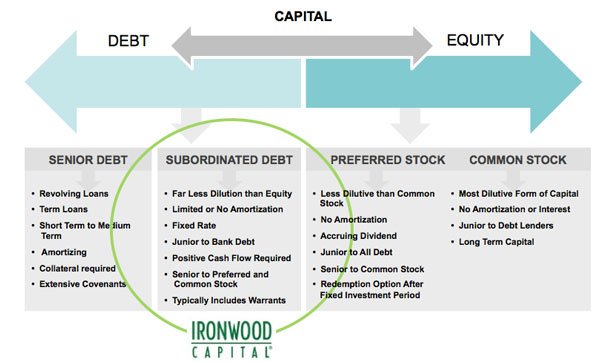 Ironwood Capital invests primarily in the form of subordinated debt, often accompanied by smaller investments in the preferred stock of a company. Subordinated debt and preferred stock are often collectively referred to as mezzanine finance. We do not seek to take control of a company by making a majority investment, preferring instead to have management and existing shareholders retain control, establish strategic direction and manage the company on a day-to-day basis. Investments such as this are ideal for middle market companies with proven business models and strong management that are seeking to accelerate growth, fund operational improvements or expansion and maintain control.
Mezzanine finance is a versatile financing tool within the capital structure of middle market companies. It can serve on a standalone basis to provide the junior capital necessary to access increasing amounts of senior debt to support growth in a company. It is also a critical component of the capital structure in a buyout or recapitalization of a company, filling the void between equity and senior debt.
Mezzanine finance can come in many different forms, including second-lien debt, subordinated debt with or without warrants, convertible debt or preferred stock. Ironwood's subordinated debt typically has both a current and deferred interest component, along with warrants that enable it to participate in the growth of the company. Such capital is appealing to middle market companies since it is more flexible than senior debt in both structure and repayment terms and is less dilutive than common stock. Furthermore, the warrants are rarely converted into the stock of the company. Instead, they are monetized based on a pre-arranged formula.
Learn about Ironwood Capital Mezzanine Finance