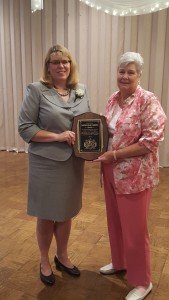 We're proud to congratulate our very own Sandy Samuels, Ironwood's assistant controller, on her induction into the Warren, Ohio, Sports Hall of Fame.  Sandy was honored for her swimming achievements at a banquet and induction ceremony on August 29th.  The Warren Sports Hall of Fame was formed in 1988 for the purpose of honoring those men and women in the community who have excelled athletically or who made substantial contributions to athletics in Warren.  Sandy's mother, Debbie Budd, who served as her age group coach, presented her with the award.  They are both pictured here.
Sandy, a graduate of Warren G. Harding High School, excelled in swimming and was a four-year letter winner, six-time High School All-American, Academic All-American (she was salutatorian of her class, too!) and Northeast Aquatic Conference Female Swimmer of the Year, earning a full athletic scholarship to the University of Hawaii and setting district records along the way.  As a member of the University of Hawaii swim team, Sandy was recognized as a Big West Scholar Athlete and received All-American Scholar Collegiate awards.
Congratulations to Sandy!