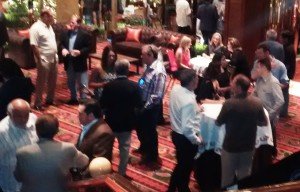 Last week I attended the annual Waste Expo, held in Las Vegas.  It's a great event with a real mix of business getting done, fun with friends and new connections being made.  It was good to get together with leaders of our portfolio companies and other industry leaders, as well.

We were particularly pleased to get the news that Action Carting, an Ironwood portfolio company,  is featured on the cover of WasteAdvantage magazine as a visionary leader in Environmental Services and in their community (New York City's five boroughs).  In addition, their driver, Alan Baltimore, was selected as Driver of the Year in the category of medium size companies.
Well done, Action Carting and Alan Baltimore!

Dickson has responsibility for deal origination, due diligence, underwriting, deal structuring and execution and portfolio management. He is a member of the investment committees of the mezzanine funds.